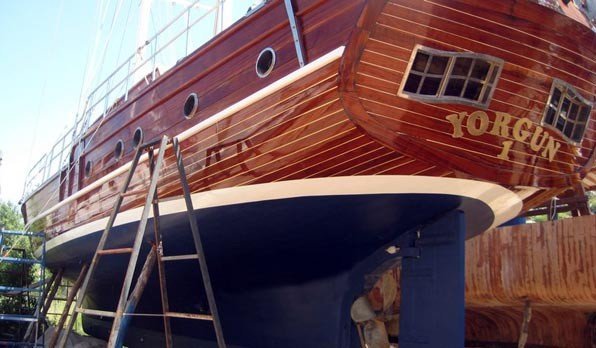 Our company offers gulet yacht refit and maintenance services at the shipyards with which we made a contract.  If you cannot pay enough attention to your yacht or cannot carry out the routine or necessary works that need to be done due to your busy schedule or to the fact that you are in another city, we'd be glad to take care of your yacht on your behalf.
Wooden yachts, differently from the composite yachts, must be beached every winter and at least one routine maintenance must be carried out on them.
For all the repair and changes you might need apart from this routine maintenance, we are at your service with our technical teams that are the experts in their field. Our architects, engineers and technical personnel provide professional support for all the subjects listed below.
Our Yacht Refit and Maintenance Services 
Winter and summer refit services
Wooden structure restoration and maintenance services 
Deck restoration and maintenance services
Interior arrangement and decoration change services
Motor and generator maintenance and refit services
Mechanical installation works
Stainless steel and metal works
Shaft, propeller and steering system works
Electric and electronic refit and maintenance services
Air conditioning and cooling works
Interior and exterior painting, polishing and toxic painting works
Sail refit and maintenance services
Joker boat overwintering, refit and maintenance services 
Jet ski overwintering, refit and maintenance services