Bodrum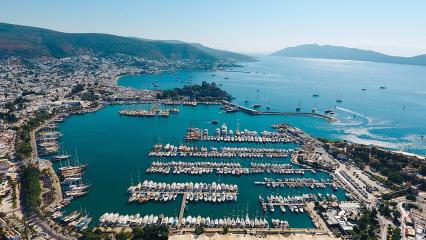 Welcome to Bodrum, Turkey! Jump on board to meet your captain, crew and fellow travelers. After meeting with your tour leader in the afternoon, we'll start to explore the famous nightlife of Bodrum with our new travel mates. Bodrum is the center of nightlife in the Aegean region of Turkey and known for its amazing beaches and gullet cruise trips.
History of Bodrum dates back to the 12th century B.C. The city was named 'Halicarnassus', which was the birthplace of Herodotus; the 'Father of History' who lived in the 5th century B.C. The 'Mausoleum' of King Mausolus (350 B.C.) which is one of the Seven Wonders of the World is located in Bodrum. That's the only structure that survived from the Classical Era is the Amphitheatre. It is one of the oldest theatres in Anatolia with a capacity of 13.000 people and is still hosting many shows and concerts for the art-lovers of Bodrum.

Another place that you should visit whilst in Bodrum is the landmark of the city 'Castle of Saint Peter'. It is one of the best-preserved pieces of architecture with a history that dates back to the Middle Ages. 'Myndos Gate' through which Alexander the Great entered Halicarnassus is another place that you should not miss.