Bodrum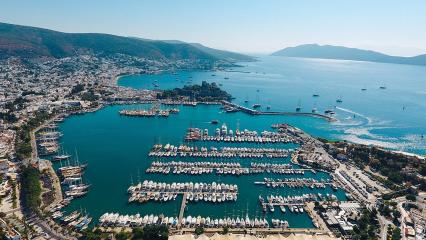 Boarding starts at 15:30 pm at Bodrum Harbour. On the first day, our gulet will remain anchored at the Bodrum Port for dinner and stay here overnight. Early arriving guests can leave their luggage at our office.
Bodrum has a history that goes back to the 12th century B.C. The city was called 'Halicarnassus' and was the birthplace of Herodotus the 'Father of History' who lived here in the 5th century B.C. The Mausoleum of King Mausolus (350 B.C.), which is one of the Seven Wonders of the World, is also located in this city. The only structure that has survived from the classical era is the Amphitheatre. It is one of the oldest theatres in Anatolia with a seating capacity of 13, 000 guests and is still hosting many shows and concerts for the art-lovers of Bodrum.

Another place that you should visit when you arrive in Bodrum is the landmark of the city the 'Castle of Saint Peter'. It is one of the best-preserved pieces of architecture with a history dating back to the Middle Ages. Myndos Gate through which Alexander the Great entered Halicarnassus is another place that you should not miss! After dinner, if you can socialize with other guests on the gulet to visit a fun bar at Bodrum Bar Street. Bodrum is very famous for its vibrant nightlife.