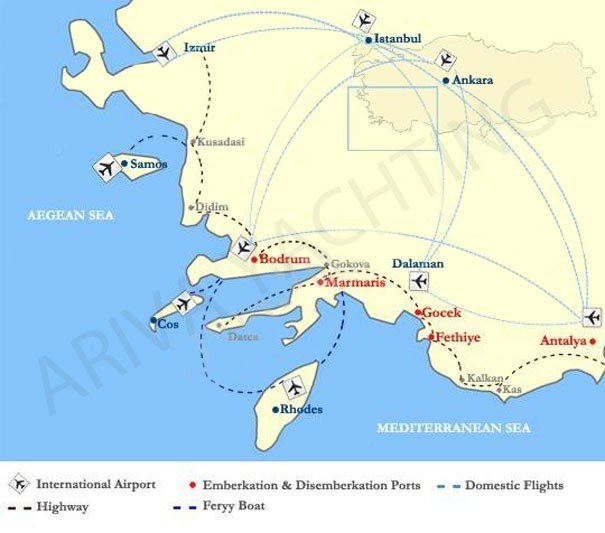 BY AIR : There are several charter flights from almost all major airports in the world that leave very frequently in the months of April/May and October/November to Bodrum and Dalaman Airports. Flights are less frequent between mid November and April though.
Plus, there are many airlines that have direct flights to Istanbul, Izmir and Antalya. Domestic airlines too have regular flights to and from Bodrum and Dalaman. The flight from Istanbul to Bodrum and Dalaman Airport takes about an hour.
We can search the most cost effective flights for our customers as per their budget. Or you can try to search for the best flights yourselves.
BY FERRY : Regular ferries offer services running between the Greek Islands and the western Turkish coast ports of Bodrum, Marmaris and Fethiye, though generally between spring and autumn only.Ferry timetables are available on www.feribot.net
BY BUS : There are many bus operating companies that have regular services to/from Bodrum, Marmaris, Fethiye, Datca, Antalya, Kusadasi, Didim, İstanbul, İzmir and Ankara. The fare is inexpensive and the ride is very comfortable in fully air-conditioned buses.
Bodrum

Located on a beautiful peninsula, Bodrum is one of the most beautiful bays in the world and definitely the most exclusive holiday destination of Turkey.
Bodrum was known in ancient times as Halicarnassus, hometown of the great historian Herodotus and the site of King Mausolus' Tomb, one of the Seven Wonders of the Ancient World.
Everybody can find something attractive in Bodrum: enchanting houses painted in white, an international atmosphere, you can swim in absolutely clear, tide less, warm seas. The evenings in Bodrum can be spent in one of the m"any restaurants and bars with the fantastic view of the Medieval Castle. Afterwards night clubs and, of course, some of the best discos in Europe keep you going until dawn. Bodrum is one of the starting points of the Blue Cruise and the most important site for gulet construction, famous since ancient times for the expert and skilled craftsmen. It is a perfect embarkation port to start a cruise to the gulfs of Gokova and Hisaronu, to the Greek Islands or even a one way cruise to the lovely Gocek. More Information about Bodrum
Gocek

Gocek is a small town in Fethiye district. Gocek hosts six significant marinas that serve the yacht tourism in the region. A prominent characteristic of the town is the fact that it harbors islands and coves located in a large and secluded bay. Due to its location, it naturally enjoys a high potential for yacht tourism. Since Göcek is a Registered Area of Special Protection where multi-storey buildings are not allowed, the boarding facilities are two-storied hotels, motels, apart-hotels and pensions situated in the town center and its periphery. Göcek has all the necessary infrastructure, capacity and spaces expected in a tourism center, yet it is renowned as a much more peaceful and quiet settlement compared to other tourism areas. More Information about Gocek
Fethiye

Fethiye is a city in the south of Turkey located on the ancient city of Telmessos, ruins of which can be seen in the city. In its area is possible to find some of the most beautiful caves and bays of the entire region and for this reason Fethiye is absolutely a perfect spot for a cruise on gulet.
Not far from the city some amazing places are waiting to be visited: Oludeniz, chosen as the best tourism centre in the world by the Times and The Guardian in 2007, an uncontaminated paradise also known as "Blue Lagoon"; "Butterfly Valley", a secret heaven in earth; "Kayakoy", an old Greek village abandoned after a population exchange between Turkey and Greece in 1923. From here is possible to sail either to Kekova or to Marmaris and Bodrum. More Information about Fethiye
Marmaris

Marmaris is a port city and a famous tourist destination on the Mediterranean coast, located in a stunningly beautiful peninsula with pine-clad hills dropping steeply to the sea, jagged inlets and tiny rocky islets off the coast. Ruins of the old past are still present, one for all is the castle, but today little is left of the sleepy fishing village that Marmaris was just a few decades ago. Hotels and resorts filled the area since the construction and tourism boom of the 80's and Marmaris turned into one of the most popular destinations of Turkey. Marmaris really comes to life though as the sun sets, with plenty of bars and clubs open until the early hours of the morning… Marmaris' nightlife rivals anything on the Turkish coast. It is also a major centre for sailing, possessing two major and several smaller marinas and an embarkation port for Blue Cruises with possible itineraries to Bodrum, the Greek Islands or Fethiye. More Information about Marmaris
Antalya

Antalya is located on the Mediterranean coast of Turkey and is the centre of Turkey's tourism industry. And it is easy to understand why: historical sites nearby (Xanthos-Letoon, Side, Phaselis, Aspendos), long beaches, a popular nightlife and a perfect climate are some of the reasons.
The historical district of Antalya is a wonderful downtown area to do some sightseeing, shopping, and eating as well. It is a maze of narrow streets full with small shops where to buy a souvenir and cafés where to sip a glass of Turkish tea or smoke the traditional water pipe (nargile).
Antalya is also a possible embarkation port for a Blue Cruise and offers suggestive surroundings and locations as Kekova and Phaselis. More Information about Antalya