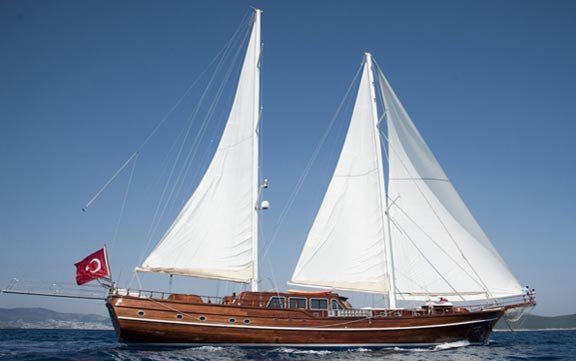 Gulet charter is the practice of renting a gulet yacht and cruising to various coastal or island destinations. This is usually a vacation activity, but it also can be a corporate event.
Each gulet has an experienced and knowledgeable crew: captain, chef and deckhand who will host you and look after the boat. However this can be anything from a 16 meters gulet with a captain and chef to a 55 meters gulet with a squad of 8 or more crew members including deckhands, stewardesses, engineers, mates, and the like.
They can suggest the best anchorage places, steer the boat, raise the sails, drop the anchor, rig the windsurfer, clean the boat, provision, cook and serve the meals and make the time to entertain you. The crew have their own separate quarters and at at least one speaks a second language. Please check out ''what is gulet'' and ''life on gulets''  pages for detailed information about gulet holidays.
For a private, luxurious sea vacation you may charter a gulet yacht to share this great experience with your friends or family.  Weather you choose to hire an super luxury, luxury, standard or budget gulet which is suitable for your budget. Your comfort is our priority so sit back and relax, let our experienced crew to make your trip the most enjoyable one for you.  Just keep in mind that this is all designed for your relaxation, comfort and for the utmost fun you can ever experience
Explore to our webpage for a large selection of gulets.   Use our contact tools and enquiry forms, specify your request, preferences or questions . Our experienced team will assist you in finding the best gulet and will make your cruise the most enjoyable one for you. Enjoy the easy booking process and feel the comfort of no hidden costs and money back guarantee.
Some of our customers already have an idea about the popular locations and  itineraries. But our web page has very detailed destination and itinerary information. You may visit Turkey and Greece sections for more information about departure and arrival ports, suggested itineraries section for thee best chosen cruise routes. First time charterers or uncertains, please ask directly to our experienced team and they will assist you in finding the best cruise itinerary for a gulet holiday.
We are a well known yachting agency serving in the Aegean and Mediterranean with years of experience. We are always here to serve with our professional team-mates and our usual energy.
Our mission starts with your first contact with us and continues until you go back to home with happy memories. We do our best to make you feel happy and comfortable during your holiday. Everything is legally shown on paper and your rights always protected by law.
You can find all the information about charter terms, cancellation policy, charter agreement and more on our webpage. Please do not hesitate to contact us for any further questions.